Meaning Of SEO :
SEO stands for Search Engine Optimization. SEO is a process through which an SEO Expert can systematically enhance the visitors visit by attracting their attention through certain techniques and tactics to maximize the traffic to a targeted page by improving the ranking within the search engines.
There are numerous search engines that are been used by the users all around the world. Search engine like Google, Yahoo, Bing, etc. are commonly been targeted for SEO.
Reason of SEO:
The main cause for Search Engine Optimization is to increase the ranking of the targeted web page in the search result list found by user, which helps in the business perspective of the web page owner of the companies to improve their rate of investment or conversation rate.
Who are SEO Experts?
SEO Experts are the professionals who are assigned to increase the ranking of the official web pages in the users searching list and modify the webpage to in the most possible way, so that it can attract the attention of targeted users instantly.
These SEO expects requires some certain sequences of techniques with tactics to work it in the interest of the assigned webpage owner. Although, there are some certain limitations as well, that SEO expert takes in consideration.
Roles of SEO Expert:
SEO Expert helps in boosting the sales and marketing by increasing the traffic to the targeted Website of the business owners.
SEO Expert analyzes the contrast of the webpage and searches the reasons for the downfall of the traffic.
SEO Expert plan attractive keywords for the Webpage owners which can help the website to improve ranking in search phase result list found after searching in search engines by users.
SEO Experts provide solutions regarding problems faced by the WebPages assigned by the business owners of the same
Contrast Between SEO tools of 2015 and 2016:
The basic differences we can find is the features have been upgraded and some new useful features have been added to make SEO the most effective that can bring success in the promotion of marketing and business perspective.
Top Free SEO Tools of 2016 for SEO Expert:
With time, Applications and tools are been upgraded with the need of improvement for the webpage promotions. Certain tools and application are highlighted below
1. GTmetrix :

GTmetrix is a useful free tool that allow us to detect or analyze Web page's speed, load details including – time of loading, number of requests, etc. and also advices actionable steps to optimize.
GTmetrix Processing steps:
GTmetrix follows certain methods to operate as a tool in detecting the page speed or other loading details for a webpage, which have been discussed below:
Adding job to queue
Fetching Site
Analyzing with Y-Slow
Analyzing Page Speed
Generating Report
Features:
Analyses web pages with Google Page Speed and Yahoo! YSlow reporting ruleset.
Detects loading time, overall page size, and total numbers of request.
Contrast the targeted webpage with performance based on reports of all other sites relative to average comparing the differences.
2. SEMrush:

SEMrush is a powerful & versatile competitive utility intelligent tool used for strategic advertising and promotion of online marketing from SEO and PPC (Pay per Click) to search engine and video-advertising research for enriching the webpage.
Methodology:
Keyword Research helps increase the quality of web content and advisement content with the best keywords, and improves the position of the page.
Find the correct keyword / phrase for SEO and PPC campaigns
Collect phrase matches and related keywords.
Find Long-tail keywords.
Explore multi-lingual or multi-national environments.
Characteristics:
The features of SEMrush are discussed below:
Analytics Report
Tools
Projects
Analytics Report :
Organic Research
Advertising Research
Display Advertising
Back links
Video Advertising Research
Keyword Research
Product Listing Ads
Keyword Difficulty
Domain vs. Domain
Charts
My Reports
Position Tracking
Site Audit
Social Media Tool
Brand Monitoring
SEO Ideas
Backlink Audit Tools
3. Authority Labs: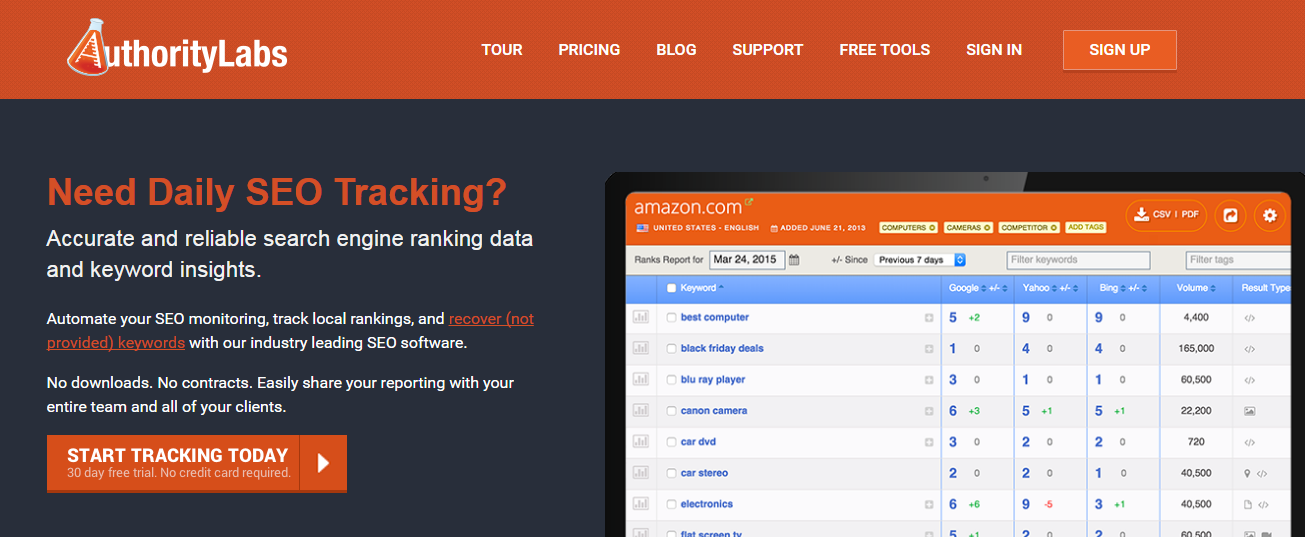 It is an automated suit or tool which tracks website ranking position in Google, Yahoo!, Bing, etc. working as time saver and helps in responding instantly to improve position of the targeted page.
Pricing Index:
Authority Labs website is chargeable to use although as a beginner we use it without any credit for a trail period of 30 days. After the trail version ends, we must register in the paid packages of PRO, PRO PLUS and ENTERPRISE according to requirements for more options or features to enjoy.
Benefits of Authority Labs:
We can track results by Domain's Country, City or Postal address
As per Now Provided results, we can re-plan best keyword suited to the page and also re-design the under-performing web contents to improve traffic in SEO.
We can track of both mobile and desktop version related ranking without any obstruction through this tool comparing the differences and for better understanding.
Here we can trace and track our primary competitors, even include their domains and combine the same set of key phrase or keywords as our own. This also allows us to add the competitors into the system and sync our domains with them to get the contrast with our opponent.
It is very time consuming tool which can be operated by setting up automated data export to receive weekly or monthly ranking reports that could be easily included in the report processing.
This tool helps us to organize key phrase or keywords and store ranking data everyday for more long 2 years.
Other than this, we also provide numerous options for current ranking, changes in ranking, and historical ranking. Also flexible in inviting client to login, download the PDF, use our rank tracking API, etc.
Authority Lab was build keeping in mind about the users relating to multiple group related sites in order to monitor or track ranking of competitors across numerous countries that help in consuming time with the group domain.
Graphical representation in Authority Labs helps to compare the current ranking status of the user contrasting with the competitors through simple analysis showing trends.
We can invite unlimited users around the world allowing them to get access to our ranking reports without paying for it. We grant our team or clients to access and explore the data as per their requirements which improves the reporting time.
Free Tools provided by Authority Labs:
There are certain free suits with resources that can be utilized for the users point of view, which has been mentioned below:-
Tools:
Backlink Checker
Keyword Grouper
Partner API Tester
Website Crawler
Rank Checker
Resources:
How Google Rank Web Pages (Overview : Part – I)
How Google Rank Web Pages (Unusual Suspects : Part – II)
Competitive Intelligence (Onsite Research : Part – I)
Competitive Intelligence (Business Research : Part – II)
Competitive Intelligence (Social Research : Part – III)
Competitive Intelligence (Off Site SEO Research : Part – IV)
Competitive Intelligence (Paid Media Research : Part – V)
Competitive Intelligence (Using Authority Labs : Part – VI)
Competitive Intelligence (Alerts and Passive Monitoring : Part – VII)
4. SEO site checkup:

SEO site checkup is a useful tool for analyzing and optimizing hidden and visible content in order to increase the traffic and improve the positioning of the targeted webpage in top listed ranking report.
Process to Check a Web Page:
To check a web page we have to insert the URL address with domain name of a page and then start SEO site checkup to find leaks or errors learning to improve the quality and ranking of the page. The sequences of processing are discussed in the following:-
Get everything in Dashboard
Checking website's Backlink
Analyzing Competitor's strategy
Automated checkups will be created.
Customizing branded SEO reports
Features:
We will find some important features which makes this SEO site checkup tool most effective:
Analyzes or detects issues on our most powerful server relating to SEO.
Monitoring Professional SEO automatically keeps track of weekly changes more the 30 SEO variables.
Better understanding competitor's SEO strategic plan by comparing with 5 competitors side-by-side and watching them compete for some point of time.
SEO Reports are created without wasting any time.
Recommends fixing issues related SEO reports for the improvement of ranking position of the web page.
5. Woorank: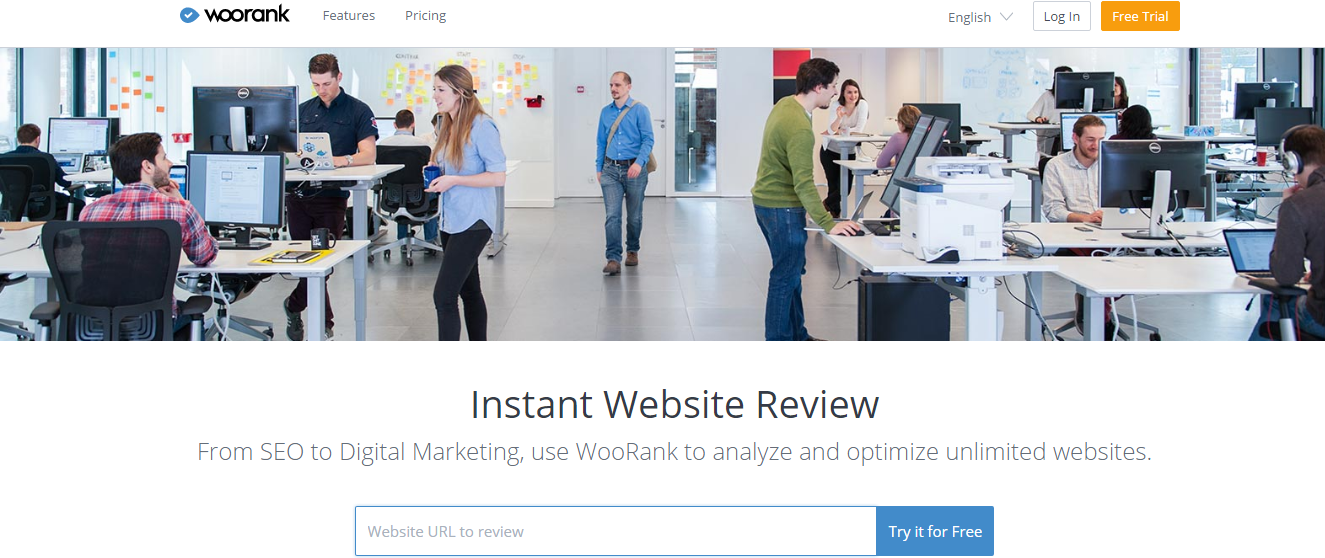 Woorank helps us to detect problems and provide us with solutions to fix it with the website. This tool gives us the opportunity to top the ranking ahead of the competitors.
Instant Website Review:
For optimization and analyzing of unlimited or maximum websites, Woo rank is used from SEO to digital marketing.
Features:
The main features of Woo rank have been explained below for understanding:
In-Depth Review – In this process, the analysis of targeted maximum websites are analyzed in-depth to find out the issues, learn to solve them by improving the ranking of WebPages and online visibility through SEO , search engines, usability, etc.
Download Review as Branded PDF – Consuming time without wasting energy, this feature give us the opportunity to download the progress report of the targeted colleague or clients which presents the slides for understanding.
Competitive Analysis – This feature help us to identify the win strategy of the opponent competitor and adopt the same keyword to improve the ranking of our website.
Marketing Checklist – The integrated Marketing checklist allow us to prioritized set of task in a sequence-wise way which is easy-to-use.
6. Majestic SEO:
Majestic SEO is an intelligent suite that interlinks SEO, Internet PR and Marketing, presenting inbound links and site summery data.
Targets of Majestic SEO:
The main functions of Majestic Marketing Search Engine are discussed below:-
SEO Professional: Being the primary domain of SEO, we can get potential clients, compile pitches, help us in maintain portfolio, audit websites and acknowledge on our success with details.
Media Analyst: This helps us in analyzing our huge URL lists and the effects of market in our ranking.
Entrepreneurs: This helps in decide strategy plans for business opportunities and also keep sight on our SEO with proper measures to be taken for making us successful.
Developers: Being a developer we want to develop in rapidly in minimum time utilizing most accurate and largest amount of data same as majestic provide.
Tools:
Overview
My report
Site Explorer
Search Explorer
Compare
Link Map Tool
Webmaster Tools
Majestic Plug-ins
Workflow
Features of Majestic SEO:
Site Explorer
Backline history checker
Search Explorer
Link Intelligence API
---