Siliguri: 20th April 2018– The main motive behind conducting the weekly presentations is to familiarise the employees with the practice of public speaking which is perhaps the most effective and direct medium to share ideas amidst employees who work together under the same roof for a mutual company. So Cyber Help India successfully conducted its second presentation on a good note. The theme of this presentation was to present or suggest new methods or trends that can be implemented in the working cycle to increase mutual productivity & enhance creativity.
Here are some of the main highlights of the Presentation Session held on 20th April 2018.
In Cyber Help India, work ethics are very important and very high standards are set towards customer satisfaction, which is greatly valued. Here, we firmly believe that maintaining congenial relationships with customers even after the successful deliverance of their projects is important. This boosts loyalty and secures future collaborations with the same client in the long run. We always deliver what we promise. Your website is created and backed up by one of the most competitive creative team in Siliguri, as we diligently work towards the establishment of your strong online presence.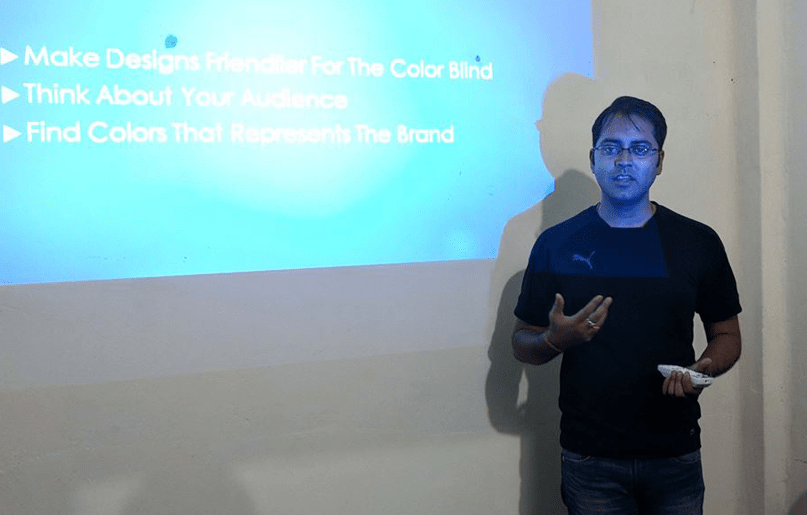 By the end of the evening, the entire team exchanges a melee of ideas, suggestions & technical knowledge about the field of website & software development, content creation, customer relations, decorum, cooperation and digital marketing. Such rich and innovative ideas are sure to bring about better productivity within us and our company in the coming of days.
Our presentation started on a lighter note with our madam Mrs. Anita, the co-founder of our company. She explained the benefits of maintaining a dress code in the office premises & effectively diverted the momentum of the issue with some humor. She explained that dress code denoted uniformity among all and establish company brand. By following a dress code employee will feel more aligned with company values. So, management has decided to quick implementation of our dress code.
The evening was brightened by the speech of our Co-Founder Mr. Gautam Sir, who enlightened the room with his ideas that he always loves to share. He spoke about the usage of good color palettes in a digital product and importance of high-quality graphics which clearly differentiates your company from other regular alternatives. He also shared his personal experience on how some clients may have a different approach towards a particular color and their choices might not align with ours.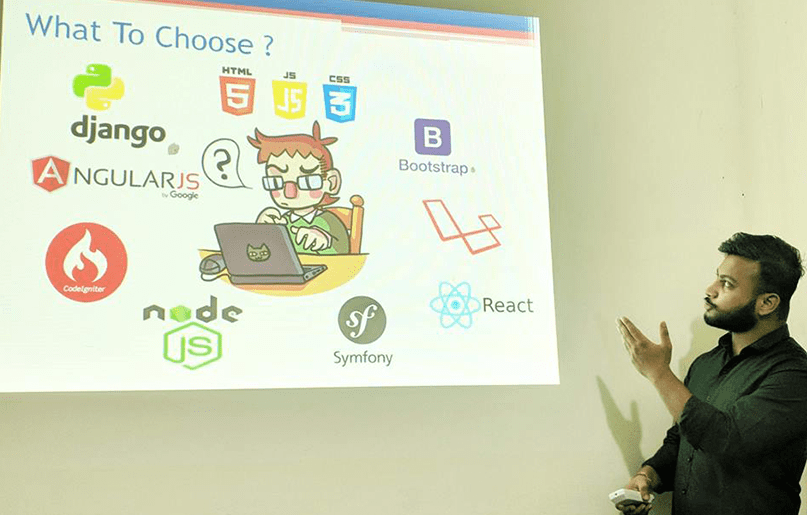 As he narrated about his experiences regarding Logo Designing, he stated that a logo is a visual representation of a company, which reaches out to millions, leaving a mark. To ensure that the mark is a positive one, it is every graphic designer's professional obligation to shell out the finest product in terms of alignment, design, color & idea. And this must be done in accordance with the customer's preference, without compromising with the standard of the product.
His presentation was an eye opener to every one of us, as the crucial importance of colors was brought into the limelight in created attractive designs.
The evening followed with an innovative slide show by Mr. Manish Gupta who is part of the software development team here. He used his slides to explain the FUTURE ASPECTS OF WEB DEVELOPMENT that might replace the existing designing programs that are commonly used. The audience seemed to understand his point about the programs they use to create a finished product in the form of custom software. His idea of using a productive yet versatile programming language was acknowledged by Mr.Gautam Ghosh. Mr. Manish's suggestion will be further researched and implemented in the field of software development in the coming days.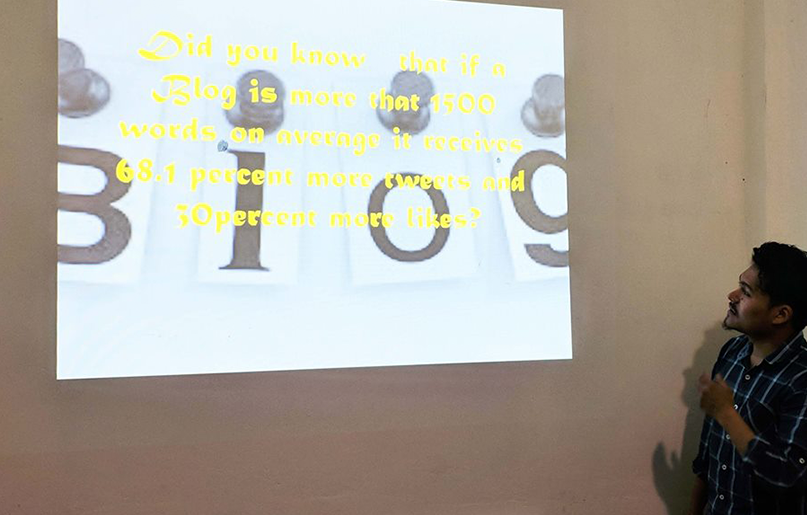 The next speakers were from the Content and Copywriting Team. Rishi presented a slide which was titled "Content writing is the King" and how the present audience has become increasingly hungry for quality content, which should come by in good quantity as well since free access to the internet now facilitates bulk reading and researching. Pranish focused on important traits which are necessary for writing SEO friendly. She elaborated the effectiveness of keywords which is responsible for the ranking of the blogs we write. Shradha talked about the Trends in Content Writing that will take over by the year 2020. She stressed that the highlighting trend of the coming age is Voice Search, and how Cyber Help India can produce voice-search friendly content from now on. They ended their individual speeches after briefing the audience in the room about the new blogging trends which are slowly overtaking the age-old methods of writing.
<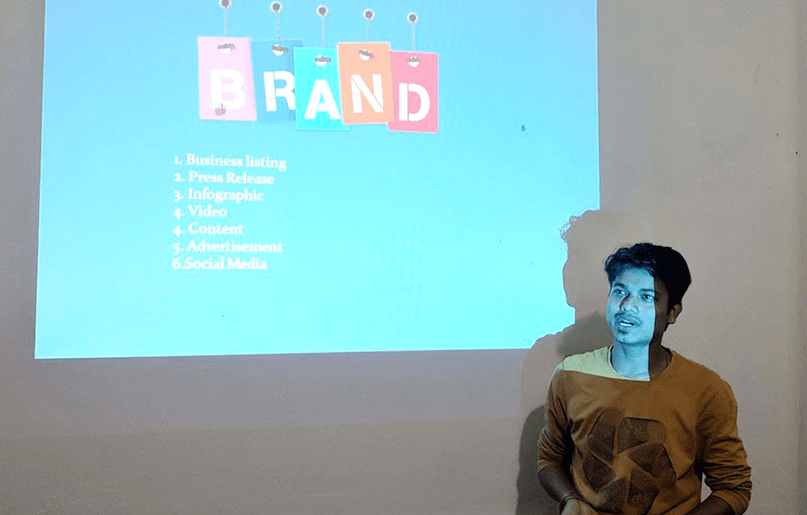 Kunal Gharami is the in-house SEO expert who shared light upon the new trends in SEO that can benefit from the leading trend of Voice Search. He explained about this new and trendy, and how it is the lazy man's back to browsing the internet these days. Kunal presented few tactics that can be applied to boost organic rankings. He included some suggestions that need to be updated with the blog writing team. His presentation was aimed at updating our existing techniques that can be taken over by newer and more effective ones soon.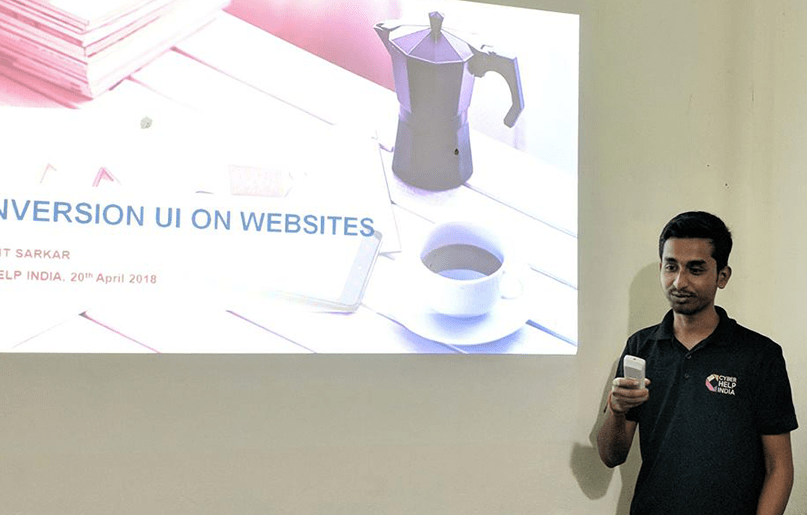 The next speakers were Abhijit and Priyabrata who represent our Website Developing Team. They talked about new techniques which can be implemented while building a website to make it a little more user-friendly and make the website easy to understand. They explained about a new feature like creating a chatting platform on the website to encourage seamless customer engagement.
Bapun, a part of the Social Marketing Team proceeded the evening narrating the keys of digital marketing success and some tips for the same. He stressed on more user-friendly experience that can be delivered to the customers through the use of Emoji to search a particular place or thing. His idea was appreciated and promised to be evaluated before it is used or implemented on our websites.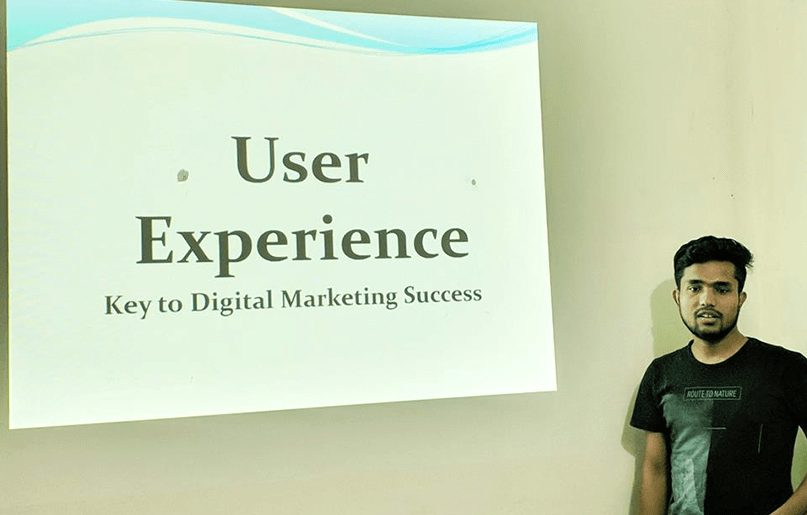 Janvi is one of the members of the Marketing Team. She spoke about the importance of market research, marketing cycle used by marketers and the implementation of some ways which can successfully do its job in lead creation, attracting a customer through lucrative offers and some tips on how they convert probable customers to loyal clients of Cyber Help India.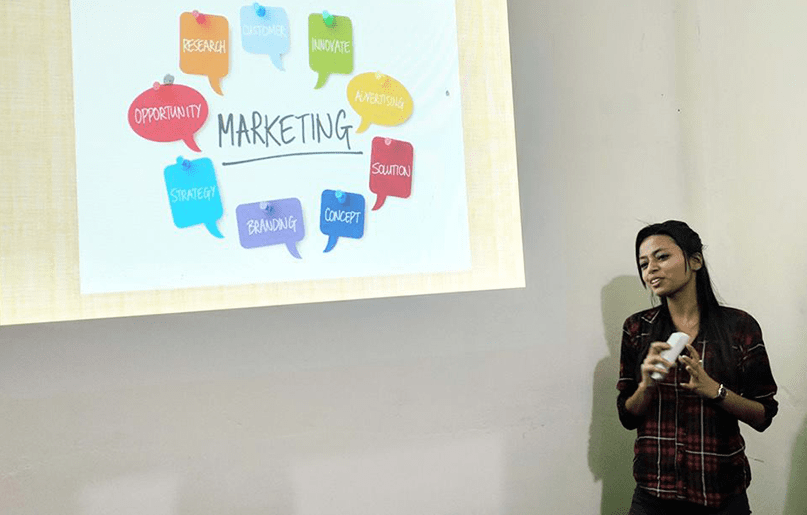 We shall be back with even more interesting topics for the next assignment, till then we suggest you to "Be More Tech Wise".
---