Recently a marketing chart has come to our exposure-calculating percentage of people interested in availing social media.
Let us have a look–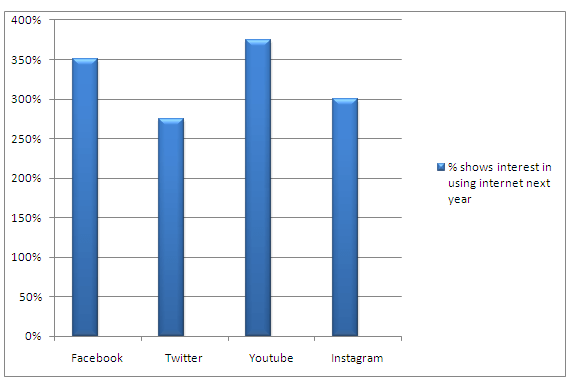 Data Source: Social Media Examiner
This chart clearly determines the high retention of social media users per year.
While Social Media Marketing is gaining popularity in India, we cannot think of shining out in the online market without it.
If you are a photographer and have your business online, you must have a good social media presence. Just having a well-decorated photography website won't help you gain popularity.
 You must significantly advertise your website on social media platforms like Facebook, Twitter, Instagram, and YouTube. Only then, your business gets wings.
For your convenience, we have listed five significant points that will give an instant boost to your online photography business:
Have a look, read through!
5. Engaging Audience:
Audience is the hero of an online business. Never ignore your audience, rather reply to their comments, want their feedback and provide them with pointers. When they find an engaging website, they feel you are real and not a robotic. This feeling boosts their urge to return to your site.
4. Regular Updates:
Consistency is the secret tool to all the online marketing strategy. Social media is not like the real world, it moves much faster. You will have to be consistent otherwise; your audience will fly to your competitor. Your posting criteria are in your hand, but generally, to be consistent you must post 2 to 3 times in a week.
3. Good Content:
Nowadays it is not enough to post just good image. You have to cater for the needs of your traffic. Upload a blog with nice tips and the process how you work with. This will entertain your customers.
2. Best Possible Resolution:
Always post your images in the best quality possible. The images you post are the piece that virtually talks to your audience. They compel your audience to click on your posts. Engage your audience with your attractive images. This is your key to success in the online platform.
1. Suitable Social Platforms:
If you flourish on all the social media platforms, you may feel dizzy while managing it. It is better you seek an SEO help from a good web designing company.  It is always better to select the best Social Media Platforms for advertising your work online. This gets you popular in a logical and significant manner.
What now?
Don't feel pressurized after reading the Blog. You don't have to do all these by yourself. Stay busy with your photography and let the best web designing company handle this part.  Google and Facebook are advertising in India in a huge manner. Common people won't understand their strategy. Therefore, handover your website to us and we will significantly take care of your site's advertising and SEO.
---